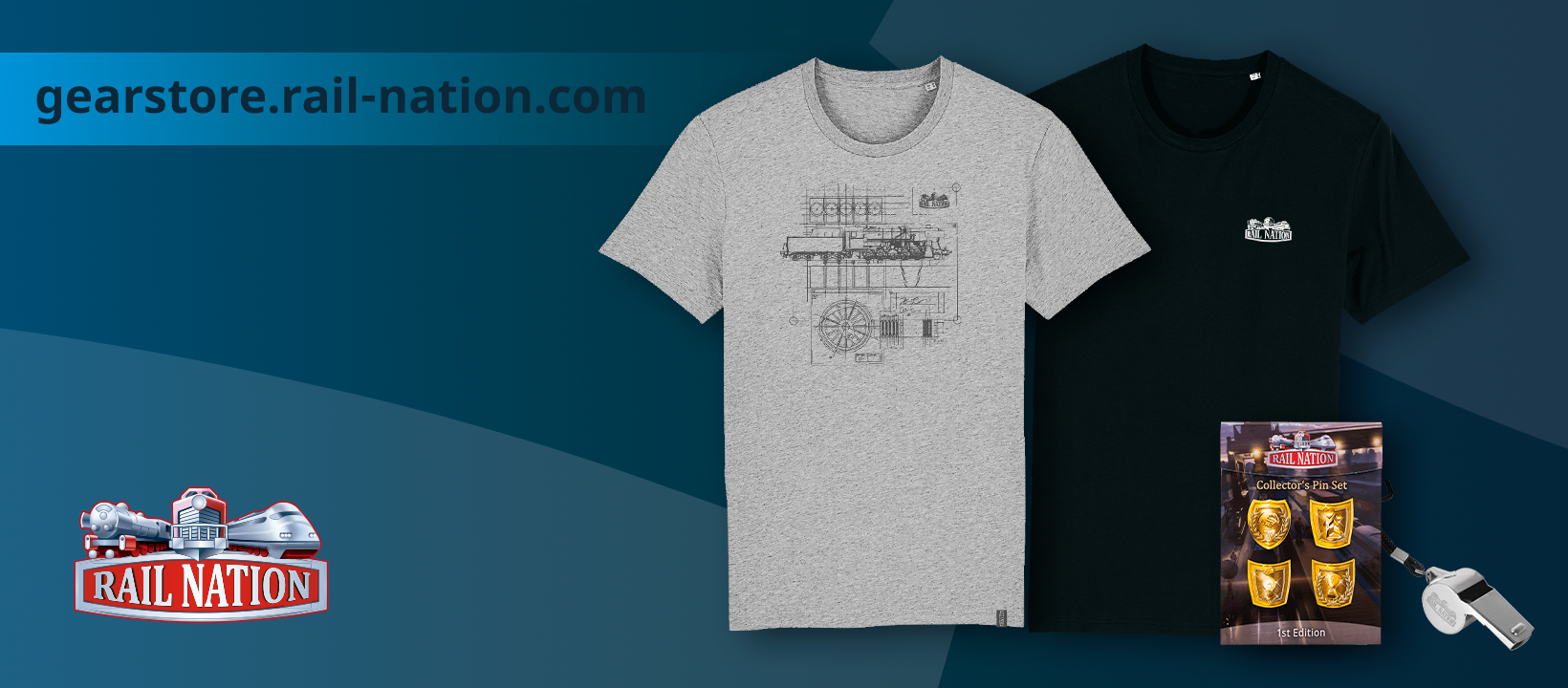 Dear players,
Get your official Rail Nation merchandise NOW!
Go full steam ahead into our gear store and view our wide range of goods and premium products. Experience our timeless and elegantly designed T-shirts, sure to fit (almost) any occasion – providing you with excellent comfort using sustainable materials. The sleek mouse pad and notebook are just a click away, ensuring precision and fine note-taking especially when the endgame starts. After all, you need to make your calculations somewhere!
Proudly show your achievements and wear our collectable pins, ideal for future train journeys and more. Go quackers for our amazingly cute Rail Nation-themed duck who's just waiting to be given a new home. The duck even comes with an excellent conductor whistle, great for announcing train departures or the beginning of a new server! Finally, turn your shelf into a statement piece with the iconic acrylic career engine that's sure to be an interesting conversation starter in your home.
We're thrilled with our incredible product range and we hope you are too! Whether you're a newcomer or a veteran player, we're sure to have something perfect for you. Visit the store, discover our collection, and bring Rail Nation into your home today.
We look forward to hearing your thoughts, feedback, and suggestions. For now, though…
Enjoy the gear store!
Your Rail Nation Team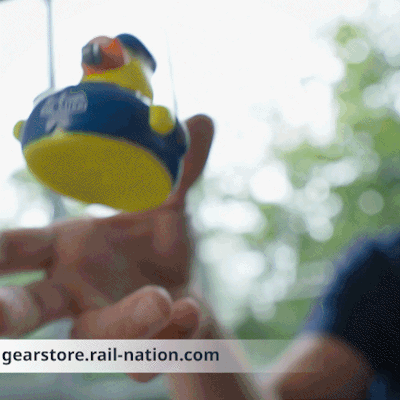 FAQs: Questions about the Gear Store
Question: Regarding the recent changes to VAT/customs duties for orders from outside the EU, is the store located in the EU and will I have to pay VAT/customs duties?
Answer: VAT is charged when placing the order. If the goods are exported, the customs duties specified in the country of delivery will be subsequently charged.
Question: My parcel hasn't arrived. What should I do?
Answer: Please get in touch with our Customer Service, and they will obtain information to help solve the problem.
Question: Which payment methods are available?
Answer: You can choose between the following payment methods: credit card, Amazon Pay, PayPal, American Express and advance invoice.
Question: Are gift cards available, or can I purchase and send an item to a friend?
Answer: Currently, no gift cards are available.
Question: What should I do if there is an issue with an item I ordered?
Answer: Please get in touch with our Customer Service, and they will obtain information to help solve the problem.
Question: What is the returns policy?
Answer: You can promptly return your items within 14 days after receiving your goods under the conditions stated in our terms and conditions (including the cancellation policy). You bear the costs of returns.
Question: What is the expected delivery time after an item has been ordered? How soon will it be shipped?
Answer: In Germany, delivery takes between 2-3 business days (Monday to Friday, excluding public holidays in Germany) after receiving payment.
If you order several items in one order for which different delivery times apply, we will send the goods in one shipment unless we have agreed otherwise with you.  In this case, the longest delivery time in your order will apply to the shipment of all the goods.
Shipping to EU countries occurs within 3-7 business days.
Question: Is it possible to modify my order after the payment is made?
Answer: Once the payment is made, there is no option to modify your order. If changes are necessary, please contact Customer Service to cancel your order and place a new one.
Question: Are there additional costs for the delivery once shipped?
Answer: If the package cannot be delivered because the information was incorrect, the reshipment will be charged again. If you want to return something, you pay the cost of the return transport.
Question: How are the delivery costs calculated?
Answer: Delivery costs are charged per country zone. For further information, please take a look here: (shipping link).
Question: Why won't my payment screen load? [aka player did not enable pop ups]
Answer: Please clear your browser cache and cookies to load the screen correctly. If this does not help, our Customer Service team will be happy to assist you.
Question: What are the delivery times for each continent?
Answer: For detailed requests, please get in touch with our Customer Service team.