Dear players,
Holidays. We know first-hand how stressful they can be. Endless amounts of planning, research and time are involved even before you begin your trip, never mind the potential last-minute cancellations!
Well, what if we told you we'd taken care of all that for you? All the tension and uncertainty – gone. What if we've got the perfect, stress-free, relaxing train journey waiting just for you, all possible from the comfort of home? No pressure, no cancellations, it's safe, and we'll even guarantee it takes place.
We've got just that for you. So what are you waiting for? Grab your comfiest clothes; your relaxing Origin Journey is about to begin.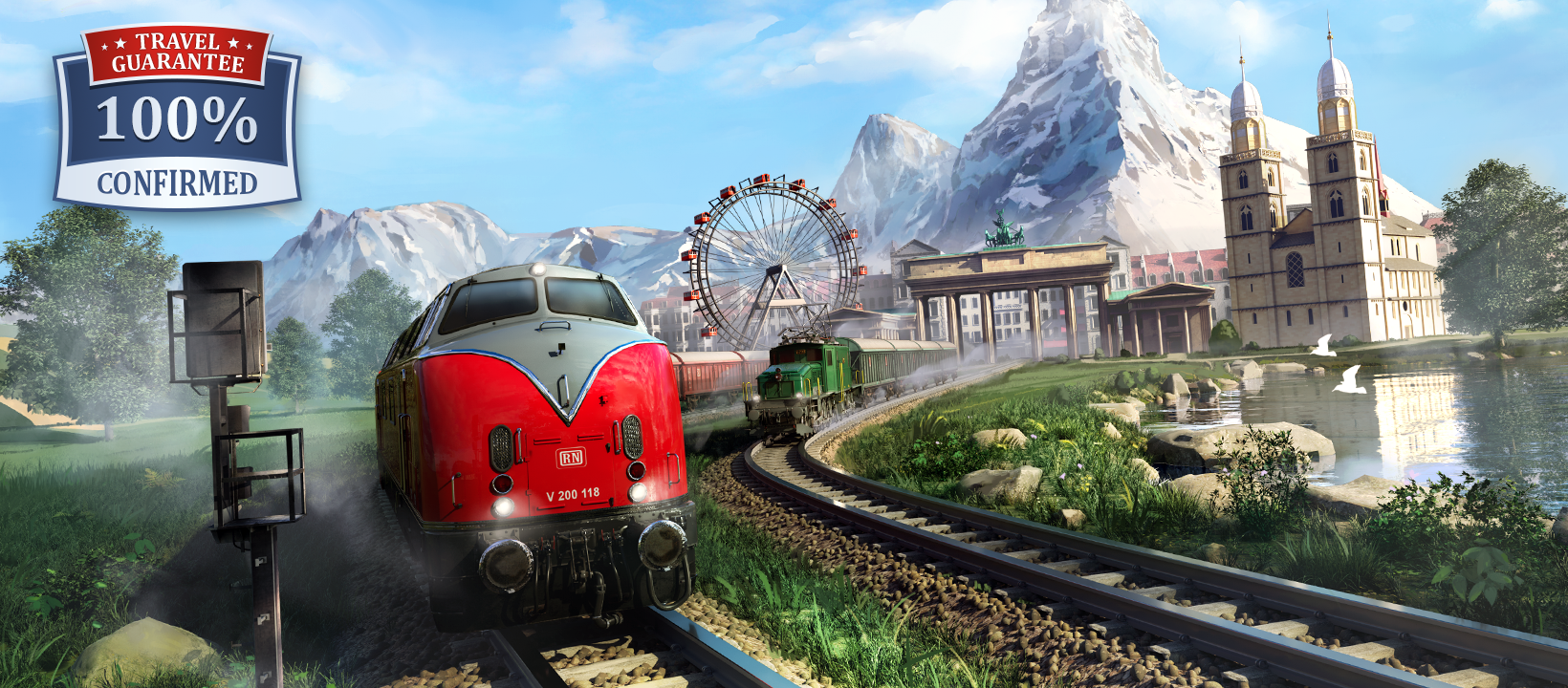 What is Origin Journey?
For those who might be experiencing Origin Journey for the first time, let give you an overview of some of the exclusive features and sights you'll experience on your trip.
The entire scenario is themed around the location of Rail Nation's creation, the German-speaking "DACH" region.
Taking place on the Classic map, you'll be treated to beautiful views of 50 landmarks and 50 cities from around Germany, Austria, and Switzerland.
You'll also experience some of the local culture with 11 new goods (replacing some Classic goods) and new product chains. While you enjoy the culture, you'll also have the opportunity to meet some of the locals with new workers, related to the new goods.
The upcoming version of Origin Journey has the additional perk of being x2 speed, which means you can experience and explore the fabulous sights of the DACH region more quickly, though it also means you need to work faster in a smaller timeframe. 1 week per era + endgame to be exact. To help you make the most out of your whirlwind tour of the Origin Journey game world, you'll also have access to a very useful tool. The daily power bonus will grant you access to unique 24-hour bonuses to help boost your experience for a short time. Don't like the bonus you got? Don't stress, you can simply re-roll for a small amount of Gold. Beware though, the more you re-roll, the more Gold it will cost.
Origin Journey x2 will only be one round, so make sure you don't miss your chance to grab a seat and start experiencing the journey.
Server starts
Please ensure you are ready to embark on your trip across the Origin Journey game worlds by checking the departure boards below for your chosen region: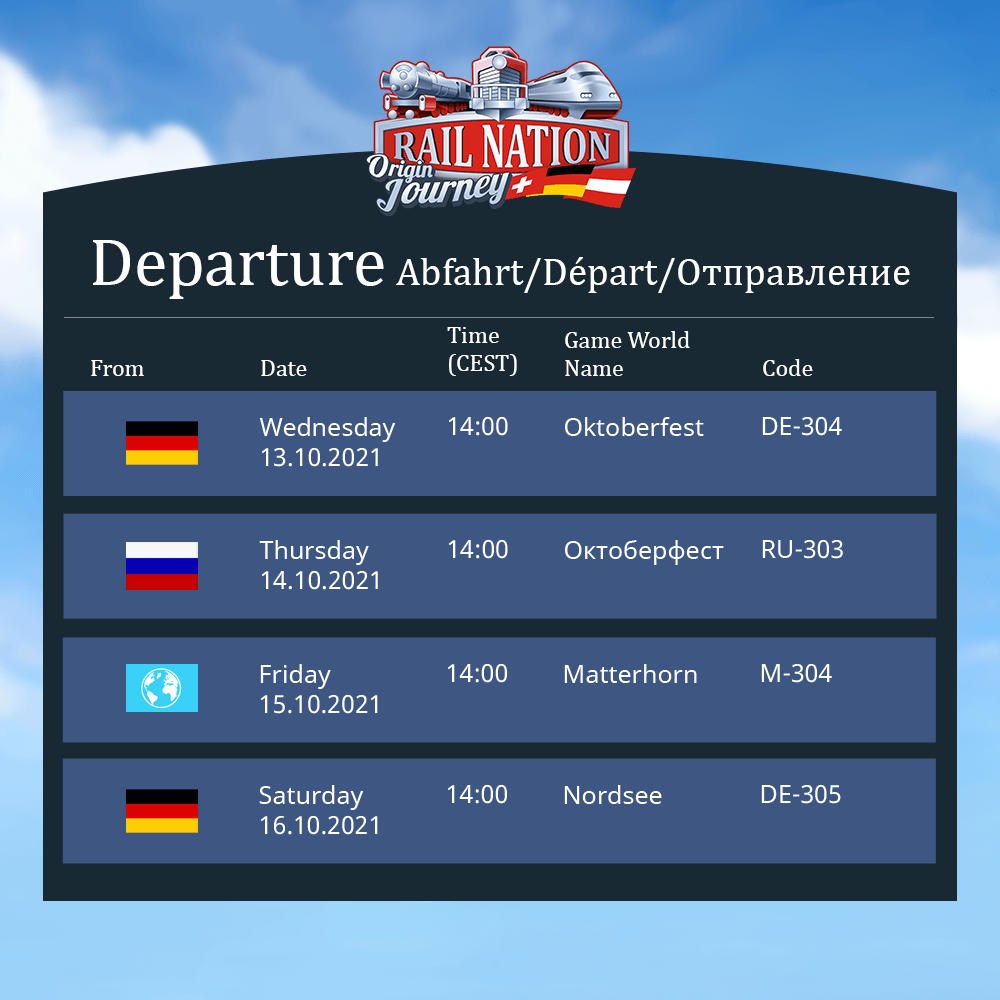 Don't miss your departure time, mark the date in your calendar, and plan your relaxing trip now!
Want to make the most out of your journey? Why not take a tour?
Join our wonderful conductor tour guide, Lucy from the 6th until the 16th for a virtual sightseeing tour brought to you via our Twitter account . During the tour, Lucy will be dropping hints and leaving souvenirs from the Origin Journey game worlds across 10 locations for you to find and screenshot.
Each day she'll visit a new location and leave a new souvenir which you'll need to collect (via screenshot) and submit as part of a Gleam giveaway . Every time you name the souvenir location and screenshot it, you'll be entered into the giveaway. So the more times you enter, the more likely you are to win!
Don't have access to Twitter? Don't worry, you can still enjoy the tour by joining our Discord server and looking at the #Social-Media channel.
All submissions made before 16th October by 14:00 (CEST) will then be entered into a draw to win one of the following prizes:
Prizes
1st – Rail Nation duck, mug, pin set and T-shirt + in-game goodies: 500 Gold, 10 lottery tickets, 10 engine vouchers, 10 track vouchers, 10 waggon vouchers, 10 instant building upgrade vouchers
2nd – In-game goodies bundle: 300 Gold, 10 lottery tickets, 10 engine vouchers, 10 waggon vouchers
3rd – In-game goodies bundle: 200 Gold, 10 lottery tickets, 5 engine vouchers, 5 waggon vouchers
BONUS: Once 500 participants submit answers via the Gleam link, a community-wide bonus code will be unlocked!
Rules:
By taking part in this Gleam giveaway, you give your consent that your personal information (such as name, shipping details and shirt size) may be collected and used for the sole purpose of shipping rewards if you are selected as a 1st-place winner.
By taking part in this Gleam giveaway, you give your consent that you may be contacted by the Rail Nation team.
Answers can be submitted in any of the following languages: English, Dutch, German, French, Russian, Spanish, Czech, Italian, Polish. You may only make a submission in one region; multiple region submissions will result in disqualification.
Only two daily entries (screenshot and text) are allowed per person.
The screenshot should be no bigger than 150 MB.
Useful links
Frequent pre-journey checks
Where and how do I transfer my Gold? – Any Gold from the previous Origin Journey round will automatically be available to transfer to the new Origin Journey x2 game worlds of the same region. For more information please read the article: "How to transfer Gold in Rail Nation."
What game world region should I play on? – If there's a game world for your specific region (i.e. DE or RU etc.), you should join one of those game worlds. If not, you should join the international game world
Will there be any bonus codes? – Yes, if 500 people participate in the community event, a global bonus code will be unlocked and who knows, perhaps there may even be more! 😊 Keep an eye on our communication platforms for more details (Discord, Facebook, and Twitter).