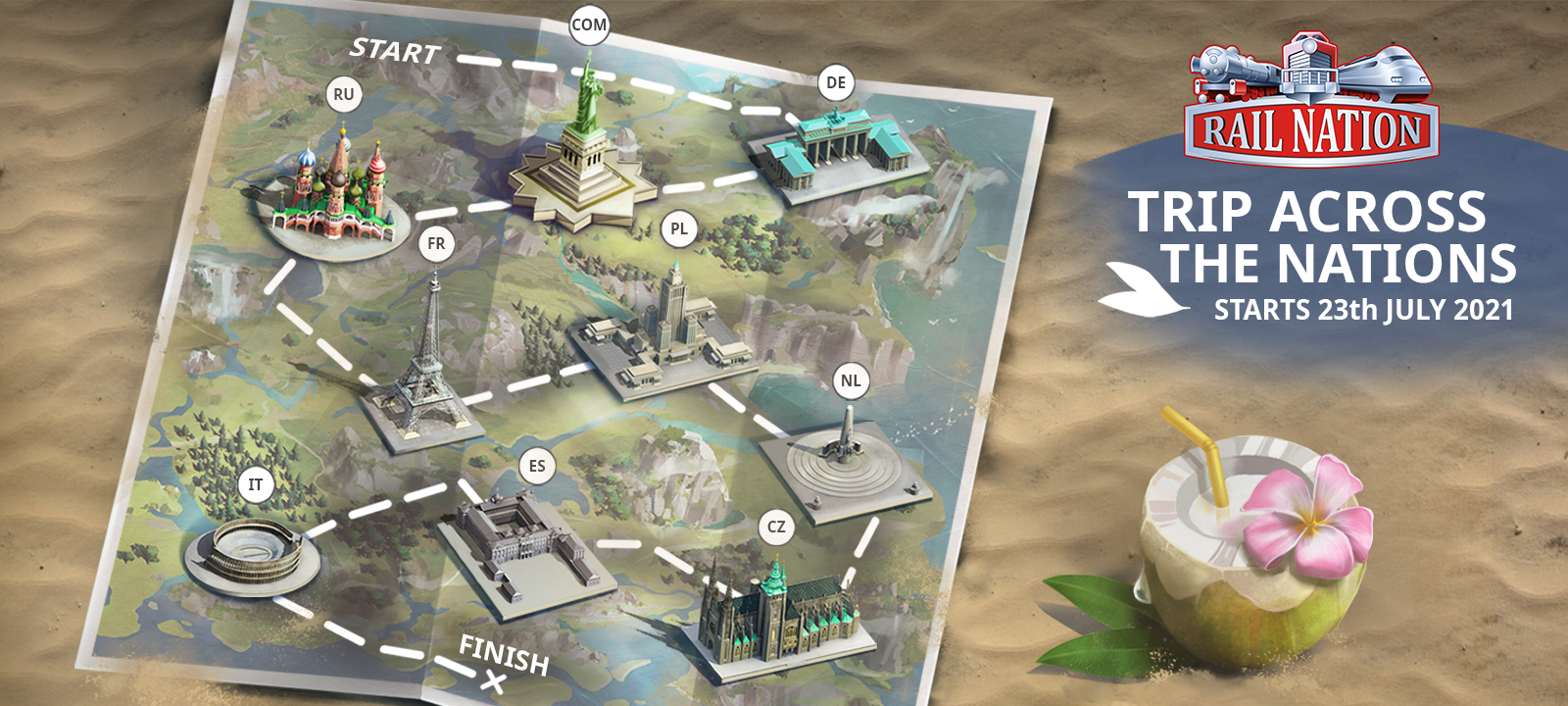 Summer is here at last.
The once dormant greenish trees are now swaying in the distance as a cool breeze passes through your home, refreshing you in the early morning. You peer outside your window, excited. Another beautiful day full of opportunities and choices.
Whether you took a vacation outside or a staycation inside, it did not matter as long as you followed the usual safety procedures. Then, with a final deep breath of fresh air, you move from the window to your train-themed calendar, circling another date in red pen.
Your exciting trip was about to begin.
Dear players,
We are delighted to announce Rail Nation – Trip Across The Nations; the new exciting event packed full of in-game rewards earned by working together as a community. So, where will you be going?
How it works
From July 23rd, 14:00 CEST to August 13th, 14:00 CEST, you will see a milestone map with various iconic tourist destinations. Each landmark represents a community region and will be unlocked once each community has completed the required tasks to unlock it by the deadline provided. This will happen once a week, for 3 weeks. To find your tasks, head to your regional Discord or forum to get started.
To complete the tasks and get the rewards, you will need to work together with your region to progress and meet the various milestones. Once a region has completed their tasks, the milestone map will be updated. If all regional communities complete their tasks before the deadline, the rewards will be unlocked for everyone! Further details about the timings, deadlines for task completion, and rewards are below.
During this event, outstanding recognition will be given to one player who has contributed the most and will become the Community Conductor for July. As this is a community event, players can compete and support multiple regions if they want to!
Rewards
Here's what you'll be able to earn as a community each week for three weeks should all regional tasks be completed!
Week 1: Bonus code unlocks – Deadline – July 30th
24 hours Plus Account
3 track vouchers
3 lottery tickets
Week 2: Bonus code unlocks – Deadline – August 6th
48 hours Plus Account
3 engine vouchers
3 lottery tickets
1 bonus engine upgrade
Week 3: Bonus code unlocks – Deadline August 13th
72 hours Plus Account
5 lottery tickets
3 engine vouchers
3 wagon vouchers
1 bonus engine upgrade
Send us your postcards!
Back in 2017, we asked you to send us your postcards from all over the world, and received an unbelievable amount of them, resulting in one of our favorite videos being created (Rail Nation – Postcards). So, with all the travelling that can happen in certain countries worldwide, we're bringing it back, but with a slight twist. As always, please make sure that if you are travelling during this time, you take care.
Can't travel or would simply prefer a staycation? No problem! You can either send us a postcard from where you live or design a digital postcard of your own using the template provided! (click here for the template). If you decide to design your own postcard, be sure to email it to rnpostcards@railnation.de before the date of the August stream (still to be announced).
During the upcoming August live stream, Bruno, our Game Designer, will be selecting his top 5 postcards! His number 1 choice will become the Community Conductor for August! Postcards that have not been chosen during the stream will be made into another one of our lovely video showcases. Players wishing to mail their postcards should send them to the below address.
Bruno – Game Designer
Bright Future GmbH
Gustav-Heinemann-Ufer 56
50968 Köln
Deutschland
We hope you enjoy the event. We look forward to seeing your postcards, and more importantly, seeing where your travels take you during this time.
Have a safe onward journey!
Your Rail Nation Team