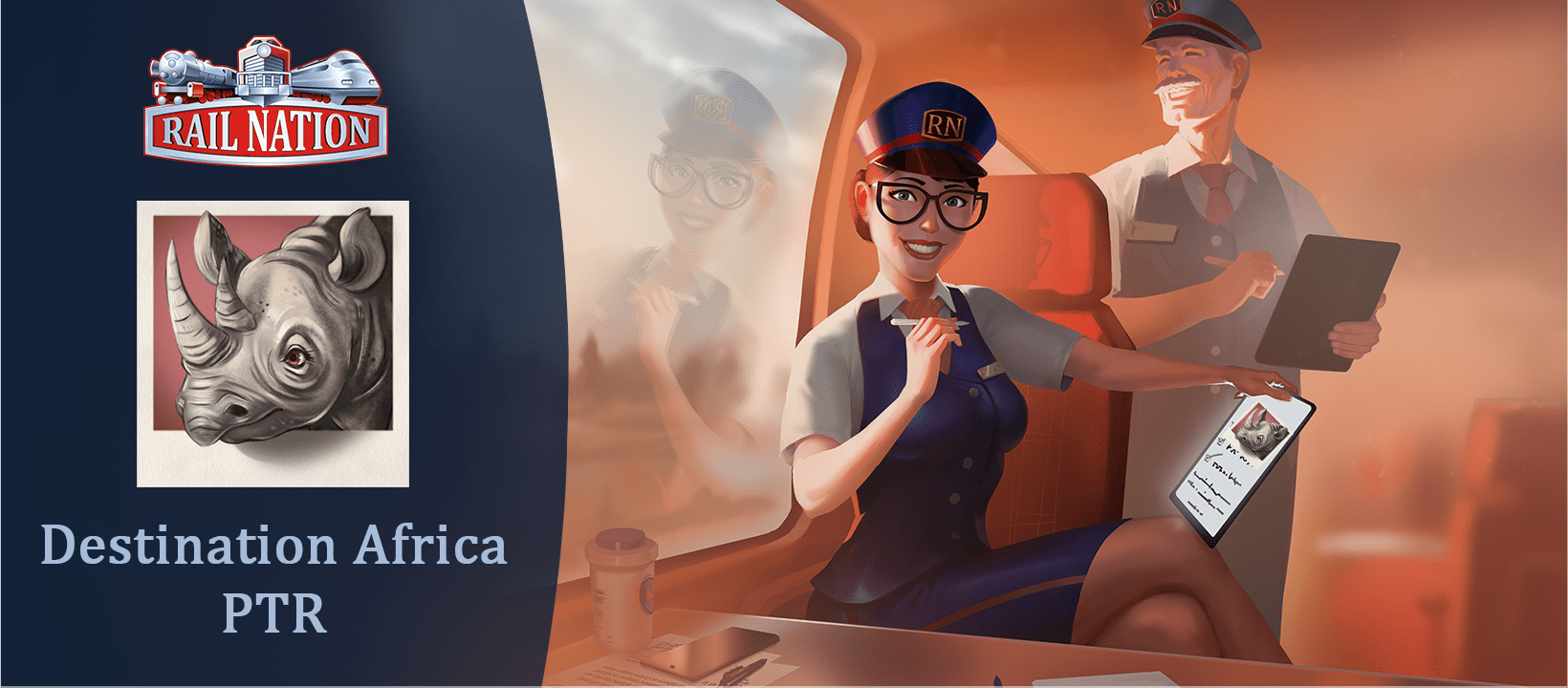 Calling all Adventurers and Bug-Hunters!
Destination Africa promises to be an epic addition to our beloved game, but before it hits prime time, we need YOUR help to ensure it's nothing short of extraordinary.  
We invite you to step into the role of a pioneer, an explorer, and a guardian of quality as we dive headfirst into this new scenario.  
Explore a Vibrant New Map: Dive into Destination Africa, as you navigate intricate new tracks, gather brand-new trainspotters, and learn about new workers.  
Test new functionalities: Beyond the basics, Destination Africa introduces exciting new features.
Hunt for Bugs: Be our bug-hunting hero! Track down anything that seems out of place, report it diligently, and watch as your efforts contribute to a seamless gaming experience for all.  
Build a better tomorrow: Join a community of like-minded individuals who share your passion for innovation, and together, let's ensure Destination Africa becomes a masterpiece.  
How to participate:
1. Head over to the PTR, and dive right into Destination Africa: PTR Lobby 
Preregistration starts now, 04th of October, at 2pm UTC+2 and will last for 24h. You can start testing tomorrow, 05th of October at 2pm UTC+2
(Note: You'll need to create a separate account for the PTR Lobby, even if you already play Rail Nation on a live server.)
2. Test every nook and cranny, from building tracks and managing trains to waiting times and buildings. To help you along the way, you will receive 8000 Gold to spend on the PTR!
If you are unsure where to start, check out this looong list of things you could test: TESTING LIST
3. Keep a keen eye out for any quirks, hiccups, or bugs. Document them with precision. Feel free to use this bug reporting form to help guide you:
Click here!

Bug Reporting Form

 

 

Explain the issue encountered: 

Avatar Name:  

Game World:  

Date:  

Time:  

Gear:  

Steps to reproduce:  

More Information:  

 

 

Example Bug Report:  

 

Explain the issue encountered: Can't open train station 

Avatar Name: BobbyBobbington 

Game World: Destination Africa PTR 3  

Date: 25.09.2023 

Time: 15:05 UTC+2 

Gear: PC, Chrome Browser 

Steps to reproduce:  

Login to the game world

 

Click on train station Icon

 

Train station keeps loading and does not open

 

Everything else works as intended

 

More Information: Tried the same on Opera and did not encounter the same issue.  
4. Share your bug reports and insights with us on the PTR Discord . Your help is gold! 
Remember, we're not just asking for your time; we're inviting you to write history and make Destination Africa a journey to remember.
Thank you for being our driving force! 
Your Rail Nation Team