Dear players,
The time has come! The most extensive bug-fixing update in the history of Rail Nation is approaching.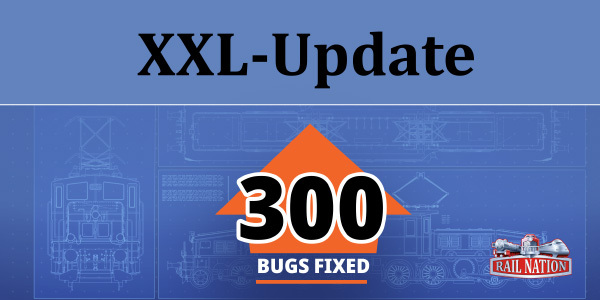 After we successfully switched Rail Nation to HTML5 a few months ago, securing the long-term future of the game, it is now time to make improvements and set higher standards.
The long-awaited, giant update full of bug fixes is finally here! All the work over the last few weeks and months has paid off.
More than 300 bug fixes are contained in this update!
What's more, they are accompanied by a number of improvements such as higher performance, the revised chat feature and significantly smoother map scrolling. There are simply too many items to list them all here, but this graphic gives a good overview:
You can find the full changelog HERE and you'll soon be able to see all the changes in the game for yourself. The release dates for the update are as follows:
15th September: DE-1, DE-107, DE-201, RU-2, RU-103, RU-204
17th September: DE & RU game worlds (excluding game worlds that are paused or in the endgame)
23rd + 24th September: All remaining game worlds
We are really looking forward to this update and would like to once again thank all the players who have helped us – either by tirelessly reporting bugs or diligently testing on the PTR.
But we're not stopping after this update! Following this strong focus on bug fixes, we want to spend some time concentrating on implementing extra performance improvements. This includes things like speed and loading times when opening windows in the game, for example.
To celebrate the release of the biggest update in the history of Rail Nation, we've also prepared a little present for you all:
Using the bonus code* "XXL-UPDATE", you can now secure a free Plus Account for 3 days.
Have fun!
Your Rail Nation Team
* Once per account. Valid from 14th September until 31st October. Only for browsers and Android. Apple excluded.
FAQs
Wouldn't it have been better not to have waited for this long and to have improved the game in several smaller updates?
That's normally the approach we take, but in this case a number of more extensive steps were necessary in the background to enable this high number of bug fixes in the first place.
I've just played for the first time since the update and the loading times are longer than before. Shouldn't the performance actually be better?
Don't worry; that's normal. After an update, data stored in the browser (in the cache) becomes outdated. This means that the browser has to reload the cache and this can result in much longer loading times when performing certain actions in the game for the first time since the update. Unfortunately, this can diminish the first impression, but that takes care of itself after spending a little while playing the game.
By the way, that's not only the case for this update but generally for all Rail Nation updates. The cache is automatically reloaded. You don't need to clear it manually.
I've found a bug. Will this also be fixed at some point?
No worries, this isn't our last update. Technical quality continues to be important to us. Please report the bug with all the key details in the forum and we'll handle it!
You mentioned further performance improvements. When can we expect them?
It's difficult to say right now, but it certainly won't take as long as this update took to develop. We are already tracking down a number of ways to implement improvements. If there's any interesting information about this before the actual update, you'll find it in the forum.
I count fewer than 300 entries in the changelog. I thought the update contains more than 300 bug fixes?
To provide a better overview, we have summarised a number of smaller bug fixes in certain bullet points, which may encompass up to 40 individual bugs.